NORTHERN LIGHTS, UKAHALA— As the Recon Federation of Club Penguin server returns to normal after the 5th semiannual Feddies Awards, Gen. MicroHamster presents a recap of the awards ceremony and a special surprise for all the winners!
The 5th semiannual Feddies went off without a hitch after the conclusion of the Feddiegate scandal, and everyone who is anyone was there to disco the night away! The fun-filled night was hosted by both our founder and eternal Commander, Prior Bumble, and our beloved Dr. Brg. Redovyco, with Commissar HamsterLoverL live-streaming all the action on our Discord server for our soldiers who were unable to attend in person.
Without further ado, here are our award winners!
As a special surprise bonus, I,

Gen. MicroHamster

have put together an actual photo trophy for our winners! If you have previously won an award and would like your own digital Feddie, feel free to contact me via DM on Discord!
The 5th Semiannual Feddie's
Patriotic Trooper
This soldier has shown the most pride and is unapologetically proud to be an RFCP soldier. Erat Ipso Sacra! Congratulations to Col. RandomPlayer10 for being the newest recipient of this award! He is truly one of our most allegient soldiers.
Most Dedicated Soldier
This soldier is extremely dedicated, even putting the army before themselves at times. Col. Shy Guy has had quite a difficult year (I won't get into the specifics), but he was absolutely the perfect choice for this award!
Shopaholic
This soldier shopped until they dropped! They spent way too many Bumble Bucks and always were bothering the bankers in the #bank-of-rfcp chat. The irony in Gen. Sillabye being the recipient of this award is the fact that they are one of the bankers!
Dankest Memer
This soldier has the dankest memes in the entire server! Brg. Chocolateyness never fails to make us all laugh. Whether it be a well placed meme, or just a funny comment in passing, he always keeps things in the server lighthearted and makes sure everyone has a daily chuckle.
Vampire Award
This award goes to the soldier that seems to never sleep; they are as nocturnal as a vampire! In her entire time in the army, I don't believe Ice Corp. Emma has ever actually slept. She's awake all hours of the day and night, making her the perfect recipient of this award!
Sleepyhead Award
The opposite of the Vampire Award! This solider seems to be sleeping and inactive most of the time, but wakes up occasionally for events! Maj. October isn't one of our most active soldiers in the chat, but they always show up to our important events and never let us down.
Funniest Officer
This officer-only award is presented to the officer who brings laughter and smiles each time they talk in the server! With his quick humor and on-point memes, Field Marshal Arne certainly is our funniest officer!
Scariest Officer
This officer-only award is presented to the officer that makes you fear them when they step into the chat. You are afraid to get into trouble by them if you are to do something bad. With her constant reminders to "hydrate or diedrate," it's easy to see why Gen. Anilia is our scariest officer!
Redback Award
This Feddie is awarded to the soldier who is extremely loved but won't accept it. From streaming movies for us, to just being an amazing and friendly person, Brg. Krispy is certainly one of everyone's most loved soldiers.
Sunshine Award
This soldier is like a sunray to the entire community, who brightens everyone's day! Brg. Rose is one of our more active soldiers, with 13,524 messages sent since she joined us on October 18th, 2020. She has a very friendly and peaceful disposition, and every time she pops into a chat, it seems to come alive almost immediately.
Fashionista Award
This award is presented to the soldier(s) with the best profile picture! Whether it's funny, recent, old, or iconic, their profile picture will live on forever in our memories. Congratulations to both Brg. Rose and Commander Prior Bumble for winning this award! With both of them having what seems to be a permanent profile photo, their profile photos will both forever be embedded into our memories.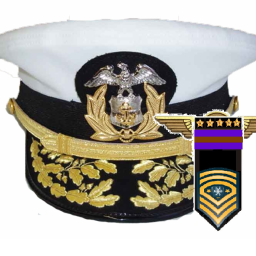 Savvy Status
This award is reserved for the soldier with the best custom status on their profile! On July 3rd, 2021, Brg. Chocolateyness changed his status to, "We are at McDonald's and it is currently 3 AM," in anticipation of McDonalds releasing their Among Us happy meal. The status stayed up for an undisclosed amount of time, so maybe he actually just likes being at McDonald's at 3 AM?
Haribanger of Chaos
This award goes to the most chaotic soldier, who brings a ton of trouble when they enter the server! Ice Agent Sigh/Possum (Sprinkles) has made a habit of making sure our officers are always hard at work and almost always seems to be in the time out role.
Chatterbox Award
This award goes to the person who talks all the time in our chats. Since joining us only on May 1st, 2021, Ice Corp. Yoshiru Bear (better known as "e") has sent a total of 9,624 messages in our server. Averaging at about 75 messages a day, they are certainly well deserving of this award!
Nicki Minaj Award
This soldier exudes the most "Baddest Bish" vibes, such a savage, such a queen, what a Baddie! With his constant roasts and obsessive knowledge of Queen Nicki, our Commander Coolj is more than the perfect recipient for this award. We even had a Nicki Minaj themed party for his birthday!
Sussiest Baka
This award goes to the soldier who exerts the most suspicious Among Us vibes! With his handling of the Feddiegate scandals and his YouTube channel where he questions everything, our very own Detective, Field Marshal Arne, definitely seems to view life as an Among Us game.
Golden Pen
This pen is awarded to the best blogger on our website. While several of us write blogs, this award goes to the man who always adds that special bit of spice with some well-placed eloquent words, Commander Prior Bumble! He's even going to have to edit this blog to fix my inevitable grammar and spelling mistakes (thanks in advance) [you're welcome].
Golden Brush
This award goes to our most artistic soldier! With her amazing art skills, Ice Corp. Mikan is always blessing our #art-by-you channel. She does both digital and hand-drawn art, and I must say, they are all absolutely insanely good!
Mad Mod Award
True to it's name, the Mad Mod award goes to the moderator(s) who are always on top of everything! One wrong message and Commissar Hamster and Col. Voidwalker are always close behind to make sure everything stays in line in our servers.
Biggest Rise
This award goes to the soldier who has risen up the ranks by proving their incredible dedication to the army. Along with being one of our most active members, Brg. Rose has proven herself time and time again and has seemed to almost fly through our ranks!
Officer of the Year
The officer who has left their mark most on the army, whether this is through diplomacy, initiative, event planning, or anything that has greatly improved the RFCP. I, Gen. MicroHamster, was extremely proud to achieve this award! I hope to continue serving and making the army a better place for everyone. Erat ipso sacra!
Soldier of the Year
The soldier who has contributed the most to the army and lived out the virtues of the army. Maj. Aqua has been in the army for as long as I can remember, and they have always been one of our most dependable soldiers. They are always there despite everything going on in their life, and they are one of our most hard-working and committed soldiers!
Best Running Gag
This Feddie goes to the server joke that just never ends. This year we had multiple running gags, but the winner is "Coolj's 7th birthday!" One day, after discovering that we didn't actually know when our commander's birthday was, everyone just decided that it was Coolj's 7th birthday. To take it a step further, it was decided that each day Coolj would age up a year. By my estimate, Coolj is celebrating his 109th birthday today! Happy birthday, Coolj!
Best Server Takeover
From Furbies, to Pokémon, to Twilight, to so many more, we had a TON of takeovers this year! The two winners of this award were for our Pokémon takeover and our Pride Month takeover. Both takeovers saw several of our soldiers getting involved, making them our most popular themes.
Epic Emoji
The server emoji that is everyone's favorite! This award also had two winners, :2arson: and :1hehe:, both of which are extremely popular in our server.
:2arson: is an emoji from me, Gen. MicroHamster. It was a photo I saw online and thought perfectly embodied RFCP's obsession with fire. I tweaked it a bit to make the penguin purple and to remove the background and emoji-fy it.
It never fails that the :1hehe: emoji, or its animated version- :1hehehe:, makes an appearance after someone tells a joke or says something completely off hand. It is certainly one of our most popular and most used emojis in the server.
Best Paid Channel
Bought by Field Marshal Arne, the #hunger-games-simulator channel is a self-run version of Brantsteele's Hunger Games Simulator. Our previous blog talks all about the channel and how I have a 95% fail rate at guessing the winners. However, everyone loves to gather in the channel and try to guess who will be the victor, making it the favorite paid channel.
Favorite Channels
We have three winners for our Favorite Channel award!
#rfcp-after-hours is a more PG-13 channel. It is mostly used for things our younger soldiers may have problems with (such as strong language), but things that aren't quite mature enough to be put into #rfcp-after-dark (our 18+ channel).
#general-chat is our open area chat open to all our soldiers. It's a perfect place to chat and hang out with your fellow soldiers!
#news is our announcement channel. Any time the officers have something important to tell everyone, it is put in this channel–usually with a ping.
Favorite Copypasta
This award goes to the favorite copypasta (a meme that is often copied and pasted in repetition by various people in mockery). Following the longest running gag of Commander Coolj's birthday, Generals Sillabye and MicroHamster took it upon themselves to wish Coolj a happy birthday in every single channel.
Tactical Tactic
Coined in the Outsider's War, RFCP's favorite tactic is still "Xing, close your tabs!" The tactic was used as we all carried yellow puffles into battle, and said "Xing, close your tabs!" before getting rid of the puffles. Once the puffles had been removed, we said "Xing closed his tabs!" The tactic was used to make a joke of Templars' Xing multilogging in battles, and is still one of RFCP's most memorable tactics.
Best Medals
We have many medals here at RFCP, and it is hard to choose a favorite, so here are our top three winners!
The Distinguished Recruitment Rose is a medal awarded to extremely hardworking recruiters who often risk their accounts to grow the army. This award is fairly simple to obtain. All you need to do is help recruit more soldiers to help our army grow!
The RFCP Purple Heart, much like the American Purple Heart, is awarded to soldiers who have endured significant and inspiring injury for the army. This could be withstanding cyberbullying from outside parties, trusting in the army to emotionally support them during profound times of trial, and making various personal sacrifices in the name of RFCP. This is awarded to people who give their all to the army, despite going through a difficult time in their life.
The RFCP Legend Medal is given to soldiers named "RFCP Legend" at the semiannual Feddies Awards. Due to its difficulty to obtain, it is one of our most prestigious medals to date, save for the Medal of the Commander!
Fashionable Father
Our amazing Commander Prior Bumble has worn some memorable outfits during our various Club Penguin events. This award goes to the very best Prior Bumble outfit, Starfish Prior! Just look how dashing he looks…
CollinZFresh Peace Prize
This award is bestowed each half year to a soldier who has made a difference by living out the virtues of RFCP in a mission of peace. This award is named after CollinZFresh, Prior's old commander and mentor from the People's Republic Army (PRA). Congratulations to Commissar HamsterLoverL for being the newest recipient of this prestigious award! Whether it be balancing schoolwork with army life, or just sending messages to check in on people she knows are having a difficult time in real life, our Commissar always has the best interests of the army, and the people in it, close to her heart.
Warrior Award
This award is bestowed each half year to a soldier who fought for RFCP through and through, either physically, mentally, or emotionally. They never gave up and showed great bravery. The recipient of this award is none other than our beloved Brg. Krispy! Despite enduring a barrage of harassment and bullying, Krispy has always held his head high and given 100% to the army.
Innovation Award
This award is bestowed each half year to a soldier who has created inventions or ideas that have helped the army immensely. These can be physical, technical, or simply operational suggestions, but they have truly helped reshape RFCP in a positive light. Col. RandomPlayer10 is constantly coming up with new ideas (particularly merch) for our army, making him the best choice to be the newest recipient of this award!
Reconnaissance Award
Bestowed each half year to a soldier who truly lives out the "Recon" of the Recon Federation, this person is excellent at keeping the army safe by taking on secret missions, keeping an eye out for enemies, and constantly standing strong in the face of danger to keep the server safe for all. As head of the Priortorian Guard, and constantly keeping tabs on everything safety-related regarding both the army and its soldiers, Gen. Anilia is the perfect recipient of this award.
RFCP LEGEND
This legendary award truly lives up to its name, and is given only to a soldier who has truly given their all to the army. Whether that means countless hours spent in the server, planning events, recruiting, supporting soldiers, being a role model, or even leading the army, this award is truly a privilege and honor in every way possible. We are all very happy to present this award to our very own Commander Coolj! At 14 years old, he does an amazingly impressive job balancing schoolwork, homework, home life, and leading an entire *expletive* army! We love him and are so thankful to him!
Congratulations to all our winners! Make sure you join us next time at our 6th semiannual Feddies.
Did any of your top picks win a Feddie? Leave us a comment below and let us know your thoughts!
Filed under: Uncategorized