NORTHERN LIGHTS, UKAHALA- The Recon Federation of Club Penguin Times-Dispatch presents the first "Sunday Comics Section" of their Sunday newspaper! Read on for lots of laughs, and an exclusive interview with Prior Bumble!
Weekly Recap
The Recon Federation of Club Penguin (RFCP) kicked off their week on Tuesday, March 15th, 2021, with a "Pi Day" pie-throwing event; they met up at the Coffee Shop on Club Penguin Rewritten and threw pies (snowballs) at each other. Later in the evening, they all flocked to the voice chat for a repeat-presentation of Gen. Sillabye's "Birds Aren't Real" presentation. Tuesday, the army met up on the Ski Hill for sled racing, but since the game was out of service, they instead ran around the army playing various other mini games. The RFCP celebrated St. Patrick's Day on Wednesday, when they met up on the Iceberg and then went around the island saying "pinch" to pinch anyone not wearing the traditional green associated with the holiday. Yesterday, the army met up in Gen. Anilia's igloo for a "Microwaving Hamsters" event in celebration of Col. Microwaveable Hamster's one-year RFCP anniversary. Last night, the army played a game of Skribbl with their Navy division, in celebration of Ice Corporal Sorest's birthday.
Comics
Puzzle
Ask Prior
Q: Everyone at RFCP knows, or should know by now, that you like both Hawaiian shirts and plaid shirts. Which one of the two is your favorite?
A: Hawaiian. I've bought another since we last spoke in preparation of the warm weather:
Q: How is your puppy doing? We miss him!
A: He's chewed my docksiders [EDITOR'S NOTE: These are very Prior-ish shoes. Look them up and you'll see what we mean] and insists on bringing large sticks into the house.
Meme of the Week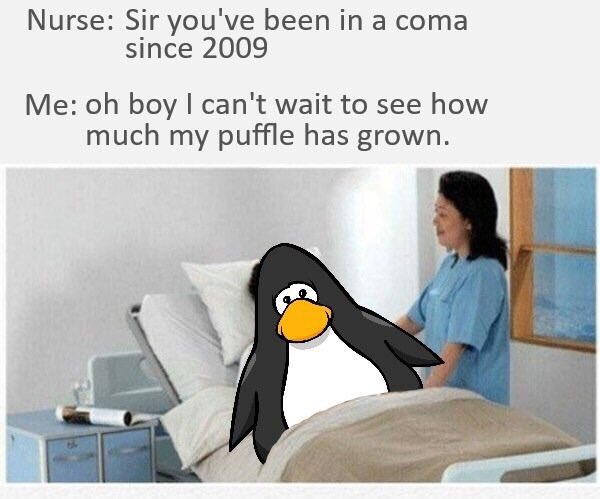 I hope you all have an amazing week, and a restful Sunday!
What do YOU think about the new Comics Section? Let us know if you'd like to see more of them in the comments below, and message Colonel MicroHamster today to find out how YOU can be featured in future editions of our paper!
Filed under: Sunday Paper