NORTHERN LIGHTS, UKAHALA, RFCP Times-Dispatch presents a special "Puzzle Edition" of their weekly paper! Read on for a weekly recap, puzzles, riddles, and the meme of the week!
Weekly Recap
The Recon Federation of Club Penguin (RFCP) had a relaxing and fun week this week. We started the week off with a Bob-Ross-Style Chia Event on Tuesday, March 23. Everyone logged on to Club Penguin for a max picture before taking to their own devices to create their own versions of Chia Pets. On Wednesday, members of the RFCP logged on to Lt. Krispy's igloo on Club Penguin for a Twilight movie night. However, things took a humorous turn when both Col. MicroHam (who was pretending to be in a car chase) and Vizconde Don (who forgot that Club Penguin Rewritten was censored) were banned, inspiring our "Meme of the Week" this week. On Friday, RFCP held a Skribbl.io event, where Commissar Hamster recreated the RFCP-famous Kiwi Loaf in one of her drawings.
Puzzles
Riddles
Q- What is seen in the middle of March and April that can't be seen at the beginning or end of either month?
Q- What lives if it is fed, and dies if you give it a drink?
Q- What is 3/7 chicken, 2/3 cat and 2/4 goat?
Meme of the Week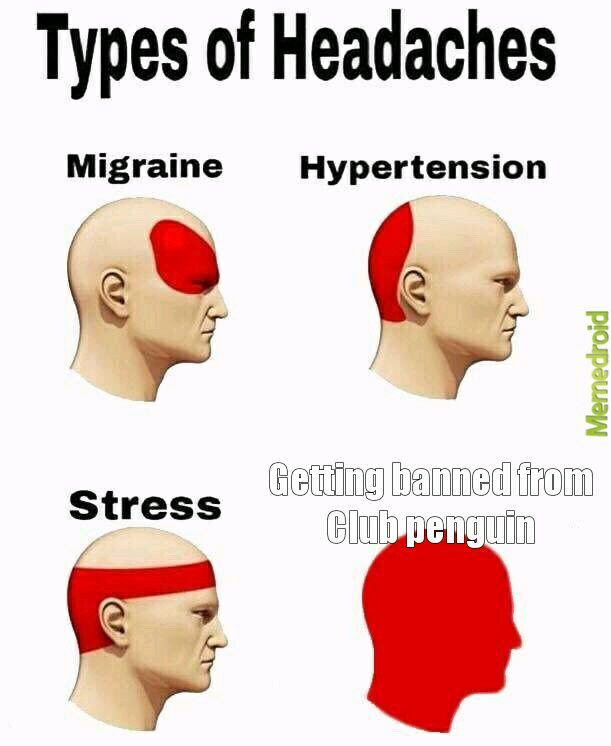 Make sure you submit your puzzle answers to the #contest-submissions channel in the server! As always, I hope you all have an amazing week!
Leave us a comment below and tell us what puzzles YOU want to see in future editions of the paper!
Riddle Answers:
1. ɹ ɹǝʇʇǝl ǝɥʇ
2. ǝɹᴉɟ
3. oƃɐɔᴉɥɔ

Filed under: Sunday Paper